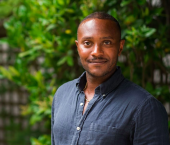 Gaetan Pettigrew began his journey to medicine as an undergraduate at the University of North Carolina. After a short stent as a ballet dancer, he completed a post-baccalaureate program at Columbia University in New York. He completed his medical school training at the University of Pittsburgh School of Medicine and subsequently went on to complete his residency at Case Western Reserve University in Cleveland, Ohio. He recently completed a fellowship in gender affirming surgery and pelvic reconstruction also at Case Western Reserve in Cleveland, Ohio
Dr. Pettigrew's practice includes comprehensive care for people with a variety of gynecologic issues. His gynecologic clinic practice includes management of abnormal uterine bleeding, fibroids, ovarian pathology, cervical dysplasia, pelvic pain and contraception. He has training in in-office based procedures and minimally invasive surgical techniques he is also seeing patients in consultation for the following gender affirming procedures including hysterectomy, orchiectomy, vulvoplasty, vaginoplasty, and metoidioplasty.
Dr. Pettigrew's main research interests include the care of marginalized populations, namely peoples of color and transgender and non- binary communities.  He is the recipient of the Dean's Diversity Fund with which he has created a comprehensive pelvic health continuity clinic for transgender patients at UCSF.