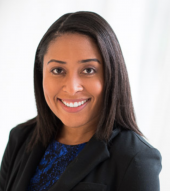 Dr. Christi Butler, MD is an Assistant Professor in the Department of Urology. Dr. Butler received her undergraduate training at Harvard University where she concentrated in Human Evolutionary Biology. She graduated from the Warren Alpert Medical School at Brown University in 2014 and subsequently completed her residency in Urologic surgery at the University of California San Francisco. In 2019 she received a certificate in Patient Advocacy from the University of California Los Angeles, before going on to complete a fellowship in Gender-affirming surgery and Urologic Reconstruction at Oregon Health and Science University under Drs. Daniel Dugi and Geolani Dy in 2020. 
She is committed to bringing compassionate, high-quality and cutting-edge surgical care to the gender diverse community. Since she's been a young student, she has had interests in health disparities among vulnerable populations, which has extended to the LGBTQ+ community. She strives to advocate for her patients through surgery and research, and appreciates the opportunity to be a part of such pivotal moments during the journey of transition. 
Dr. Butler provides feminizing procedures including: robotic-assisted peritoneal flap vaginoplasty, open penile inversion vaginoplasty, vulvoplasty, robotic-assisted vaginal canal revision, and orchiectomy. She also provides masculinizing procedures including: metoidioplasty, scrotoplasty, urethroplasty, erectile and testicular implant placement, and management of complications.