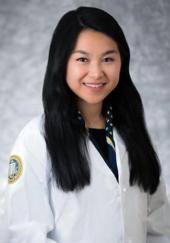 Dr. Ma is an Assistant Clinical Professor in the UCSF Department of Otolaryngology – Head and Neck Surgery. She received her medical degree from the University of Arizona College of Medicine where she was elected to the Alpha Omega Alpha Honor Medical Society and Gold Humanism Honorary Society. She accomplished residency training in Otolaryngology-Head and Neck Surgery at Mount Sinai Hospital in New York City. She was then selected for a fellowship in Laryngology at the David Geffen School of Medicine at UCLA.
Dr. Ma specializes in treating patients with voice, airway, and swallowing disorders. She emphasizes a multidisciplinary approach to patient care, incorporating speech-language pathologists, swallowing specialists, and other medical specialists within the UCSF health system into each patent's care when appropriate.
Dr. Ma's research interests include disorders in swallowing, regenerative medicine in Laryngology, and laryngeal sensation measures. She is also passionate about innovative approaches to patient education. Dr. Ma was awarded the American Laryngological Association's Young Practitioner award.
Dr Ma is a member the American Academy of Head and Neck Surgery and a post graduate member of the American Laryngological Association.