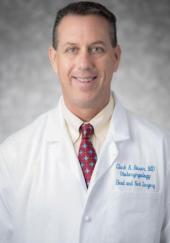 Clark Rosen, MD is a Director of the UCSF Voice and Swallowing Center, Chief of the Division of Laryngology, Professor of Otolaryngology-Head and Neck Surgery.
Dr. Rosen is originally from Los Gatos, California and is a proud graduate of Cal (Go Bears!). He attended Rush University for his medical degree, accomplished his residency in Otolaryngology – Head & Neck Surgery at Oregon Health Sciences University at OHSU, and completed a fellowship in Laryngology and Upper Airway Physiology at the University of Tennessee in Memphis under the tutelage of Gayle Woodson MD. Dr. Rosen inaugurated modern laryngology at the University of Pittsburgh beginning in 1995 creating a dedicated center of excellence in Laryngology, University of Pittsburgh Voice Center. Dr. Rosen originated the outstanding Fellowship in Laryngology and Care of the Professional Voice at the University of Pittsburgh in 2002 and since has trained over 15 fellows in Larynogology and numerous visiting Otolaryngologists from around the world.
Dr. Rosen has had amazing productivity as a clinician scientist. He has authored over 160 peer reviewed publications, 30 book chapters, 5 books including being the co-editor for Bailey's Head and Neck Surgery-Otolaryngology which is one of two main textbooks in our field. Dr. Rosen also authored (with Blake Simpson MD) a key operative atlas, Operative Techniques in Laryngology which has international reach and has been translated into to Mandarin and Spanish.
Dr. Rosen has been a Co-Investigator on numerous NIH grants as well as grants from the Triological Society, the VA, and private industry.
Dr. Rosen has been a sought after speaker internationally and has had major service to multiple publications and professional societies. He is a founding member of the Fall Voice Conference, is the Vice Chair of the Annual Meeting Program Committee for the American Academy of Otolaryngology-Head and Neck Surgery (AAOHNS), and is the Treasurer of the American Laryngological Association (ALA) which puts him in line to be the president of the ALA.
Specialty:
Airway, Voice, and Swallowing
Expertise:
Microlaryngoscopy and Phonosurgery, Botulinum vocal fold injections, Care of the Professional Voice
Professional Interests:
Laryngology, Vocal Fold Paralysis, Vocal Fold Scar, Regenerative Medicine, Care of the Professional Voice
Education and Training:
•Medical School: Rush University, Chicago, Illinois
•Internship: Oregon Health Sciences University, Portland, OR - General Surgery
•Residency: Oregon Health Sciences University, Portland, OR – Otolaryngology -Head & Neck Surgery
•Fellowship: University of Tennessee, Memphis, TN - Laryngology & Upper Airway Physiology
Awards and Honors:
•1995 - Honor Award, American Laryngologic Association
•2000 - Honor Award Recipient, American Academy of Otolaryngology- Head and Neck Surgery
•2002 - Best Doctors in America
•2008 - Distinguished Service Award, American Academy of Otolaryngology- Head and Neck Surgery
•2009 - Best Paper Award in the Clinical Medicine Category for: Journal of Voice
•2012 - Best Paper Award in the Speech-Language Pathology/Vocal Pedagogy category, Journal of Voice
•2014 - Citation Award, Triological Society
•2014 - 1st Prize in surgical specialties, for Bailey's Head & Neck Surgery ? Otolaryngology, British Medical Association Medical Book Awards
•2015 - Presidential Citation, American Laryngological Society
•2016 - Awarded Highly Cited Research Paper, Journal of Voice
•2017 - Distinguished Service Award, American Academy of Otolaryngology - Head and Neck Surgery Foundation