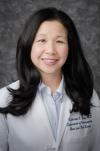 Katherine C. Yung, MD, is an Associate Professor of Clinical Otolaryngology in the Division of Laryngology at the University of California, San Francisco's Department of Otolaryngology – Head and Neck Surgery (OHNS). Dr. Yung received her medical degree from Washington University in St. Louis, Missouri, and completed her General Surgery internship at Barnes-Jewish Hospital, St. Louis, Missouri. She then completed an Otolaryngology residency at Washington University, followed by a Laryngology fellowship from UCSF.
At the UCSF Voice and Swallowing Center, Dr. Yung evaluates patients in an interdisciplinary setting. Together with Sarah Schneider, MS, CCC-SLP or other voice clinicians, transgender patients undergo a comprehensive voice and communication evaluation, including perceptual voice analysis and videolaryngostroboscopy. Treatment options include voice therapy and behavioral modifications to address pitch and intonation, as well as surgical procedures to modify pitch and decrease the prominence of the laryngeal cartilage (adam's apple).
Dr. Yung is a member of the American Medical Women's Association, the American Academy of Otolaryngology – Head and Neck Surgery, the American Laryngological Society, the American Broncho-Esophagological Association, and the American College of Surgeons.
Education and Training:
• Medical School: Washington University, St. Louis, MO
• Internship: Barnes-Jewish Hospital, St. Louis, MO – General Surgery
• Residency: Washington University, St. Louis, MO – Otolaryngology
• Fellowship: University of California, San Francisco – Laryngology
• State of California, License
• American Board of Otolaryngology
Awards and Honors:
• 1998 Phi Beta Kappa
• 1999 National Institutes of Health Summer Research Fellowship
• 2002 Alpha Omega Alpha
• 2003 American Medical Women's Association Janet M. Glasgow Memorial Achievement Citation
• 2013 Letter of Commendation for outstanding reviewer for The Laryngoscope
• 2013 AAO-HNS Model Committee Award for Distinguished Service